Not many pictures last week, so I didn't update the page. This week, a different story.
It was the final week of Bible School. It has been interesting teaching them Map Reading. The questions they ask show a keen sense of curiosity about the world God has created for us. Questions like "If the world is round, why do the people on the bottom not fall off?" or "Do astronauts eat in space?" We discussed topics from the recent landing on a comet, after ten years of travel, to the relationship between humans and trees! I could have spent a year talking with them about the marvels of the universe and they would have asked question after question.
I found out last Thursday, were were supposed to be going over the journeys of Paul! I wish they had told me that before I came! Well, we did talk about it for one afternoon! The plan is to develop a curriculum they can use to fulfill the requirements; 2 months a year - one on map reading and the second on the journeys of Paul. (Anybody wanna come out and teach?)
Hand writing would be a good class, so would basic math skills, first aid, health etc.
We were honored by a visit from His Royal Majesty, the Attah of Igala, last week. It is no small thing to have the Traditional ruler of Igalaland visit a small village like Ika. It was nice to hear him recognize Grandpa and Dad's service to Ika, Igalaland and the surrounding area.
Thursday Lois and I went to Olokwu for the monthly conference and I was given the privilege of speaking in the afternoon. Unlike Rick, I spoke in English with interpreters into Igala and Agatu. I spoke from Zechariah 8:23:
Thus says the LORD of hosts, 'In those days ten men from all the nations will grasp the garment of a Jew saying, "Let us go with you, for we have heard that God is with you."'
Tying it in with the need for us Christians to live lives that attract others to follow Christ - "letting our light so shine before men"... Using the Fruit of the Spirit, in Galatians 5:22-23, as a guideline as to how we are to live.
A few pictures from this past two weeks - You can copy this line to add it to your facebook post: http://ikafamily.com/visit2014_week4-5.htm
Sitting in my old house.
For some reason folks think I look like dad!!
Igbe Sule
Knew Dad since he got out of the Coast Guard.
Okay, so I couldn't resist!
I had to take a few! So Cute!
Not an Anaconda, But my first snake in 2 years!
(Thursday, I did get to eat snake for my first time ever - that I recall)
It was delicious!
Driving in to the conference at Olokwu
Where the mango trees don't provide enough shade.....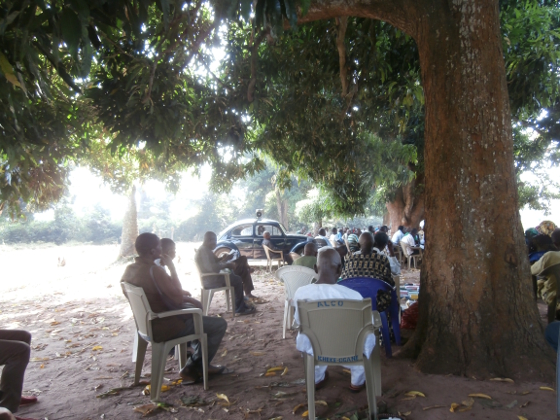 VW PA System
Edo Iduh and Interpreter
Ummmm What comes next?