My final week at Ika this visit. Hardly seems like I have been here for 6 weeks. It will be wonderful to get back with Nancy and the kids (Spending a few days in Denver before back to Missoula for "work"!)
I found the scripts to 19 of Dad's old Moody Bible Institute filmstrips from the 50's. I was able to bring out a small pocket projector with still pictures for 20 of them, so they can be used in remote villages. One of the Christians, Filip, is excited about taking it to the monthly evangelistic conferences, for use with the kids Saturday evenings. And JJ, another Christian who works in the conference, will use it with the TB patients for his evening Bible devotions. Thanks for the support in providing this tool for the work in this area.
Printing Work:
The Heart of Man and The Christian's Two Natures, in the Agatu language, have been re-typed into the computer, by Ngbede, for reprinting. He is currently working on re-typing The Heart of Man, in Igala. These are just three of the books that are out of print and people are always asking for them. There is a huge demand for books and pamphlets in the local languages and we are praying the new press gets here safely. It should be arriving in Lagos the day I leave - 9th Dec.
We have been finding that the local printers were taking advantage of dad and convincing him to let them print 5000-10000 books at a time by telling him the more they printed, the cheaper it was per copy. While true, this meant a lot of money tied up for a long time when normal use may have been 500-1000 copies sold per year. There are hundreds of copies of some books sitting around while others are not available. Ngbede has done a great job of inventorying them all and helping us see which ones we need to get printed quickly. In addition, the heat, termites and mice are a constant threat.
Until things get set up and running here, I will be trying to find a reasonable source in the States to get some of them printed and shipped out via container (if the container carrying the press and EPI books proves a viable route to ship things.)
Translation Work:
Currently there are three young men involved in translation work - Paul (Bassa language), Joseph (Eloyi language) and Peter (Agatu language) and they are supported by you and Christians from their own tribes. With Dad's promotion to his Father's house, this has left an additional administrative burden.
Bible School:
We found that the Bible school building was falling apart from lack of upkeep because the teachers did not want to bother Dad about falling ceilings and broken chairs, tables and windows! We have been trying to organize repairs this month as the students are off for the month.
They were also reluctant to tell him when supplies (study books, guides, etc) were running low, so it usually meant a rush job when materials ran out. In his later years, Dad did not have the energy or stamina to stay on top of all the administrative work (Printing, Translation and Bible School) and folks "didn't want to bother him".
* * * * * * * * * *
Added to the Medical, maintenance, well drilling and other administrative tasks, these additional tasks are rapidly highlighting the need for addition help in this corner of the world. One or two additional people with administrative gifts would be a real blessing! First and foremost, of course, they must be called by God. Without His help, the challenges would overwhelm most people!
* * * * * * * * * *
Another thing I have found 'lacking' out here is reliable internet access. I realize, when talking about missionaries, this may sound like a luxury to some, but the need for transferring large files involved in printing work, researching and consulting with medical and technical experts, and reliable communication with family, supporters and friends, is very real. Reliable satellite internet access would free Lois, Tom and Ben from being at the mercy of the local phone networks or traveling to Ankpa to see if there is a hot spot available to upload/download large files.
I have located an company, in Texas, that will provide unlimited 256kbps service at a reduced rate for mission work. When you compare that to the 8-15kbps service intermittently available now, that would be a real blessing. I am looking for some folks willing to chip in with me to provide them the service. The cost is $225 per month.
[For example, the 47 emails I try to send out daily, take 1 hr to 1 1/2 hrs to send from here, IF the network is available. They range from 190-250 kb each. At 256kbps, they would usually take 1 to 2 minutes for all of them!]
A few more pictures you may find interesting - You can copy this line to add it to your facebook post: http://ikafamily.com/visit2014_week6.htm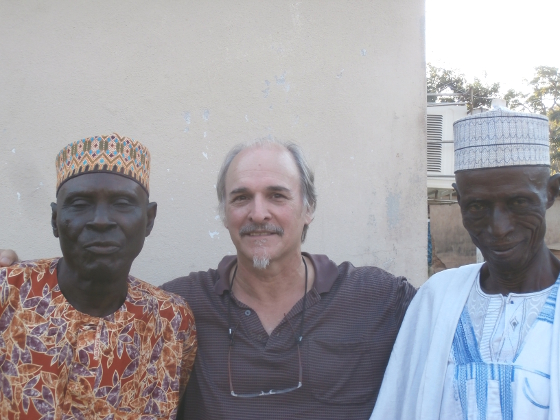 James Ogwoni and Aruna from Abejukolo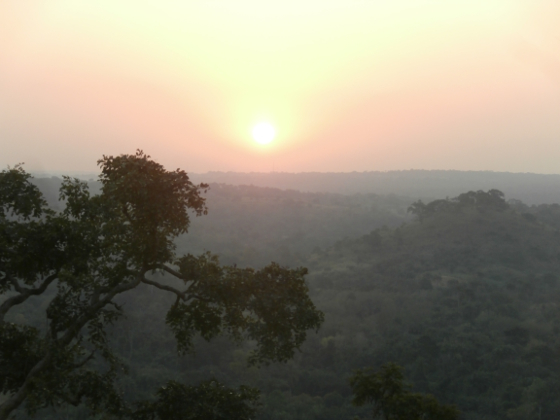 Sunset from the hill
Sunset from the hill - Ofugo towers.
Sunset from the hill - Ofugo towers.
The stream behind the hill - viewed from the hill.
Continued work on the hill road
The Ika hill viewed fro Ofugo - 40x camera!
After the services, the kids love to visit!
The Patience of a Sheep!
Lassie's Puppies
Kingfisher
Local Lumber Truck